The Bulk Updater in Watchful allows you to perform all updates across all of your sites in a single click. However, in practice most users do not do this. More commonly, the Bulk Updater is used to apply updates in small batches.
The most common use case in the Bulk Updater is selecting a single, trustedsmall batches of bulk and updating that on all of many sites at once.
How to update a plugin/extension on many sites at once.
1. From the Sites Dashboard, click the Bulk Updater button on the left, vertical menu.
2. When the Bulk Updater loads, select a plugin/extension from the filters at the top of the pending updates list. In this example, Contact Form 7 was selected.

3. Filters are applied immediately and the list will now show any pending updates for the selected plugin/extension for every site properly connected to Watchful as shown below.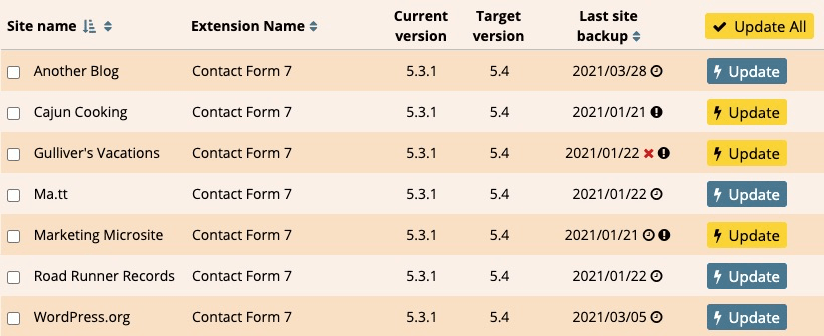 4. If you have enabled Stale Backups notifications, you may notice that the Update All and some of the Update buttons are yellow in color. This indicates that the backup is stale for the site in question. Decide is fresh backups are needed for these sites before proceeding.
5. Click the Update All button and wait for the updates to complete.
Update a single site
If you prefer to update all of the plugins/extensions on a single site, there are 2 options:
Use the filters in the Bulk Updater to select a website. Be sure to clear the plugin/extension filter and then proceed as described above.
Use the Site Updater as described in this article dedicated to the topic.
Update automatically
Watchful also supports automatic updates. The Knowledge Base includes a dedicated page on this topic.