Scheduling auto-updates allows you to relax when you are away from the office as you don't have to worry that an automated update might break your site.
How does the Auto Updater work?
The Auto Updater allows you to exclude dates and times that automatic updates are performed. For example, you may wish to delay auto updates that occur during evenings and weekends. Auto updates resume when the excluded range passes.
The Auto Updater also knows the status of your backups. If backups are stale/outdated automatic updates can be delayed until backups become current.
Creating rules
Ensure that at least one software has been added to the auto-update list.
Click the Auto Updater

item in the menu on the left of the Watchful dashboard. This launches the rule builder.

Configure each step in the builder to create the first auto update exclusion rule/schedule:

Choose an exclusion rule type. This can be recurring rules (eg: every week day), one-time rules (eg: a vacation date-range), or stale backup status.
Select a scope for the rule. The scope defines what content management system and what type of software (plugin, template, etc).
Select when the rule should begin. The date and time at which date-based rules begin.
Select when the rule should stop. The date and time at which date-based rules stop.

Click the Save button.
Repeat as need to build a set of rules for your agency as shown in the image above.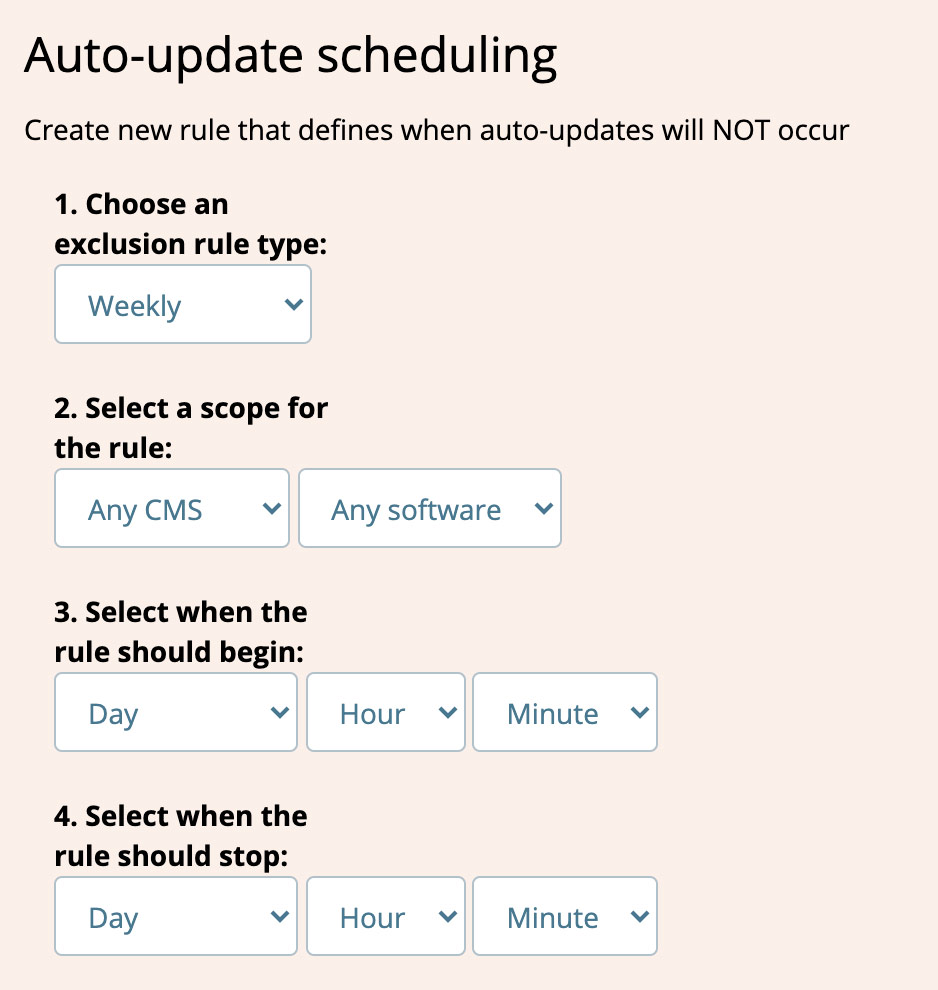 Managing rules
Once one or more rules have been created they will appear below the rule builder as shown below.
The buttons at the right allow you to Pause or Delete rules as needed. Existing rules can not be modified but rules can be delete and re-created as needed.